Canvas
Introduction
Use the
Forio Simulation Interface Designer
to add graphics and functioning components, such as graphs, buttons, and videos, to enhance your sim. The Simulation Interface Designer is divided into three sections:
the component panel
, where you will find the location of the drag-and-drop interface components; the canvas, the area where the interface is created; and
the page selection bar
, which is used to display the order of your sim pages. The interface screen is accessed by clicking the
Interface
tab in the simulation overview page.
Location and Function
Located at the center of the Interface Designer screen, the canvas is where you build the graphical interface of your sim using the components panel on the left side of the canvas area (see image below).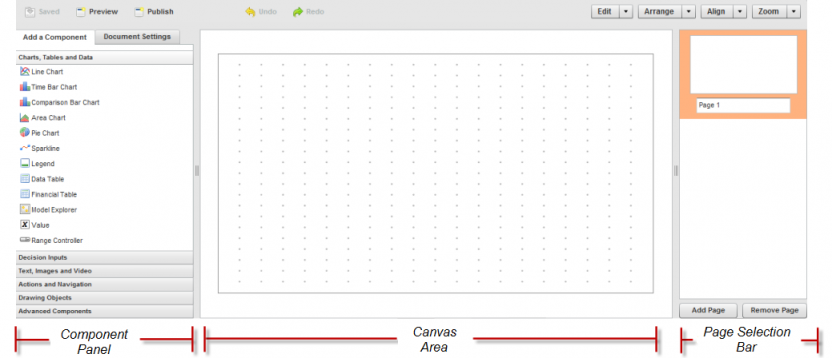 Using the Canvas
Typical use of the canvas includes the following:
Drag-and-drop of components into a page.

Deletion of components from a page.

Viewing of pages selected from the page selection bar.

Editing of pages selected from the page selection bar.
Note that the interface screen is not visible until a model has been created for your sim.

Add a note to this article