Component Panel
Introduction
Use the
Forio Simulation Interface Designer
to add graphics and functioning components, such as graphs, buttons, and videos, to enhance your sim. The Simulation Interface Designer is divided into three sections: the component panel, the location of the drag-and-drop interface components;
the canvas
, the area where the interface is created; and
the page selection bar
, which is used to display the order of your sim pages. Clicking the
Interface
tab in the simulation overview page accesses the interface screen.
Location and Function
The component panel is located on the left side of the Interface Designer screen (see image below) and contains a variety of graphical components that can be dragged and dropped into your simulations to provide specific functions. All of the graphical components are separated by function into six different categories based on their specific function.To view the components, click on the
Interface tab
(note that the Interface tab is not visible until a model is created). Next, you will see the component categories listed in stacked horizontal tabs (see image below) in the component panel on the left side of the screen. The categorical tabs are accessed by clicking the
Add a Component tab
.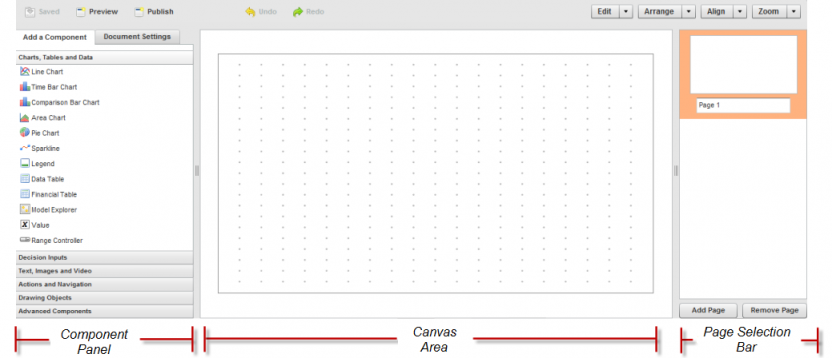 Each category of the component panel is displayed in the component panel as a stack of horizontal tabs. Click on the
Add a Component
tab on the component panel to view the six categories and their components. A description of each component category follows:
Charts, Tables, and Data - Contains components used to display and compare data.

Decision Inputs - Contains components used to make selections or enter data.

Text, Images, and Video - Contains components for displaying images, texts, and videos.

Actions and Navigation - Contains components that can be used to navigate throughout sim pages (ex. a hyperlink) and trigger actions (ex. a button).

Drawing Objects - Contains tools for drawing vertical lines, horizontal lines, rectangles, and ellipses.

Advanced Components - Contains components that can be used to display run results, require users to enter a username and password, and limit the number of runs per user. The advanced components are only available to sim authors with Basic, Premium, Professional, or Enterprise accounts.
Component Panel Tab
Using the Component Panel
Click on a category in the component panel to display all of the components within that category. Drag and drop the components you want to use onto the canvas where you build your sim. When you drop a component onto the canvas, or click on a component after it has been dropped, the tab directly to the right of the
Add a Component
tab will open and allow you to adjust the component properties.
Information on each component is available here
.
FAQs
How do I add a component?

Add a note to this article