Leadership and Teamwork – Lead your team to the summit.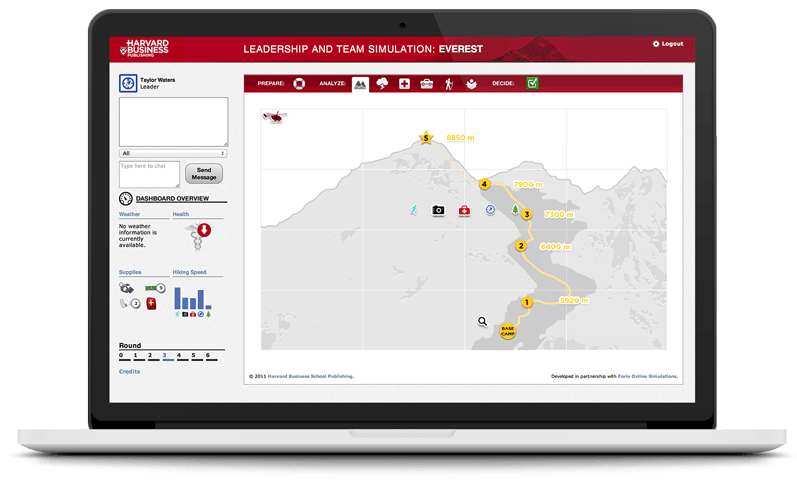 Harvard Business School Publishing
Harvard Business School Publishing (HBP) brings together academic research and real-world management expertise.
The Problem
Good managers constantly strive for more effective ways to convey concepts that are often learned through experience, such as leadership and team-building. Harvard Business School Publishing approached Forio about how to capture and teach these types of group dynamics in an online simulation.
The Process
Forio and HBP began with a series of joint brainstorming workshops to discuss goals, approaches, and desired outcomes. We talked about how to present challenges and foster discussion within teams during play and also in the faculty-led debriefing sessions afterward.
Next, the team discussed the core learning objectives in detail, working both with HBP eLearning staff and with subject matter experts such as Professor Michael Roberto, Trustee Professor of Management at Bryant University. Together, a model for successful leadership and team collaboration was developed.
Then, we set to work creating a simulated real-world user experience online. After collaborating on the story outline with HBP, we created wireframes of the user interactions and data visualizations. Working iteratively, we incorporated feedback from HBP, subject matter experts, and user testing. This ensured that expectations were aligned even before the developers worked their magic.
The Results
The resulting online Everest simulation is used in business school classrooms and corporate training sessions around the world. A team game, it can be played within a few hours. It is often incorporated as part of a larger curriculum, and includes a manual for the facilitator. Over 100,000 people have played the Everest Leadership simulation since its launch in 2011. It is available via the Forio Sim Store.