Change Management Simulation:
Power and Influence
Simulation Overview
This simulation includes four scenarios for exploring different combinations of the relative power of the change agent, and the relative urgency of the change initiative. In each scenario, students attempt to persuade key members of the organization to adopt a change initiative.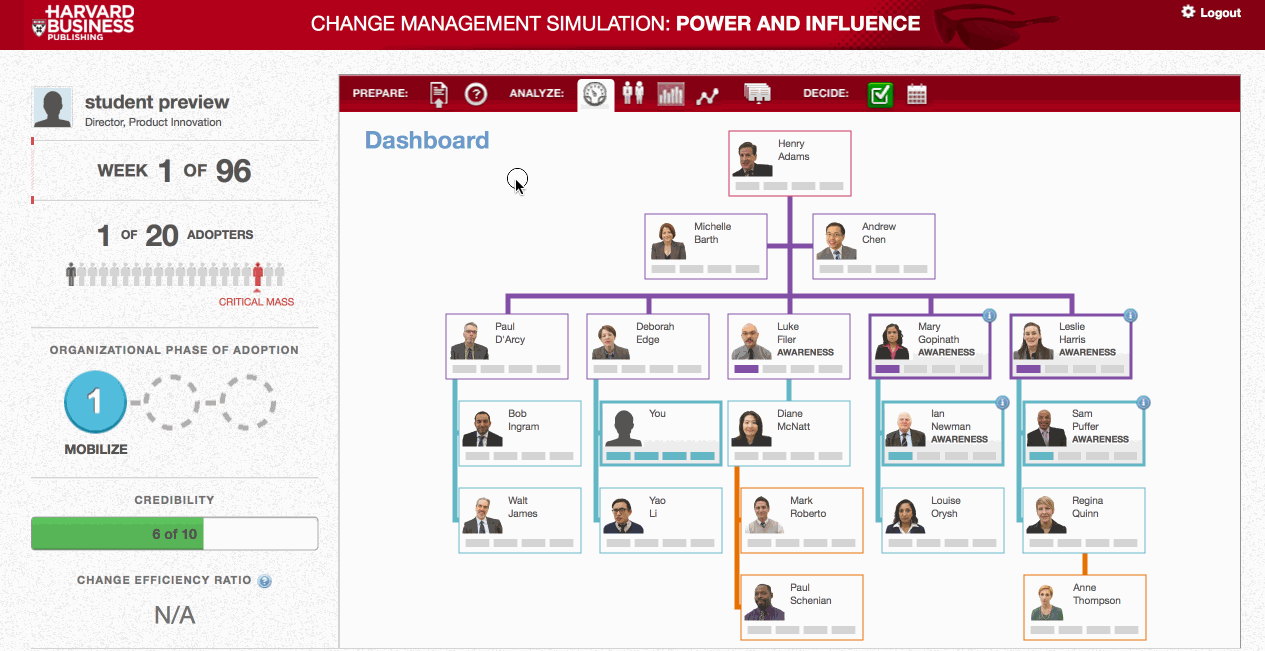 The Story
Students play one of two "change agents" - either a CEO or Director of Product Innovation - at a sunglasses manufacturing firm. They face the challenges associated with implementing an organization-wide environmental sustainability initiative. In each round of play, students choose among up to 18 change levers while attempting to move the organization's management team along a four-step pathway of change awareness, interest, trial, and adoption. Students are assessed on their ability to establish credibility and achieve the greatest percentage of adopters within the organization.
Learning Focus
Understand the four stages of change management (change awareness, interest, trial, adoption)
Experiment with different strategies for effective change management
Explore power, influence, and resistance to change within an organizational setting
Topics Covered
Organizational Change
Urgency and Authority
Technical, Political, and Cultural Credibility
See How the Simulation is Played
Additional Information
Duration
1 to 3 hours including introduction and debrief
Connect With A Specialist
Please fill out the form below to have a specialist contact you.