Birth of the Coffee Trade Simulation by ASU
I recently had a meeting with Professor Thomas Kull from Arizona State University to discuss the Supply Chain Simulation - Coffee Trade Game. He explained how the simulation works and was kind enough to share with me how he came up with the idea for the simulation. You can read the excerpt of this below.
The Need
The idea for Coffee Trade emerged from necessity. I had recently been picked to teach our research and negotiations class for senior supply chain students. As with all my courses, I was considering how to create an interactive component for the class. This accompanied a realization that our business students lacked real-world negotiation experience. Yet, many of them would be asked to negotiate for their soon-to-be employer. As well, our industrial advisor board stated that new recruits lacked an understanding of contracts, a cornerstone of many buyer-supplier relationships.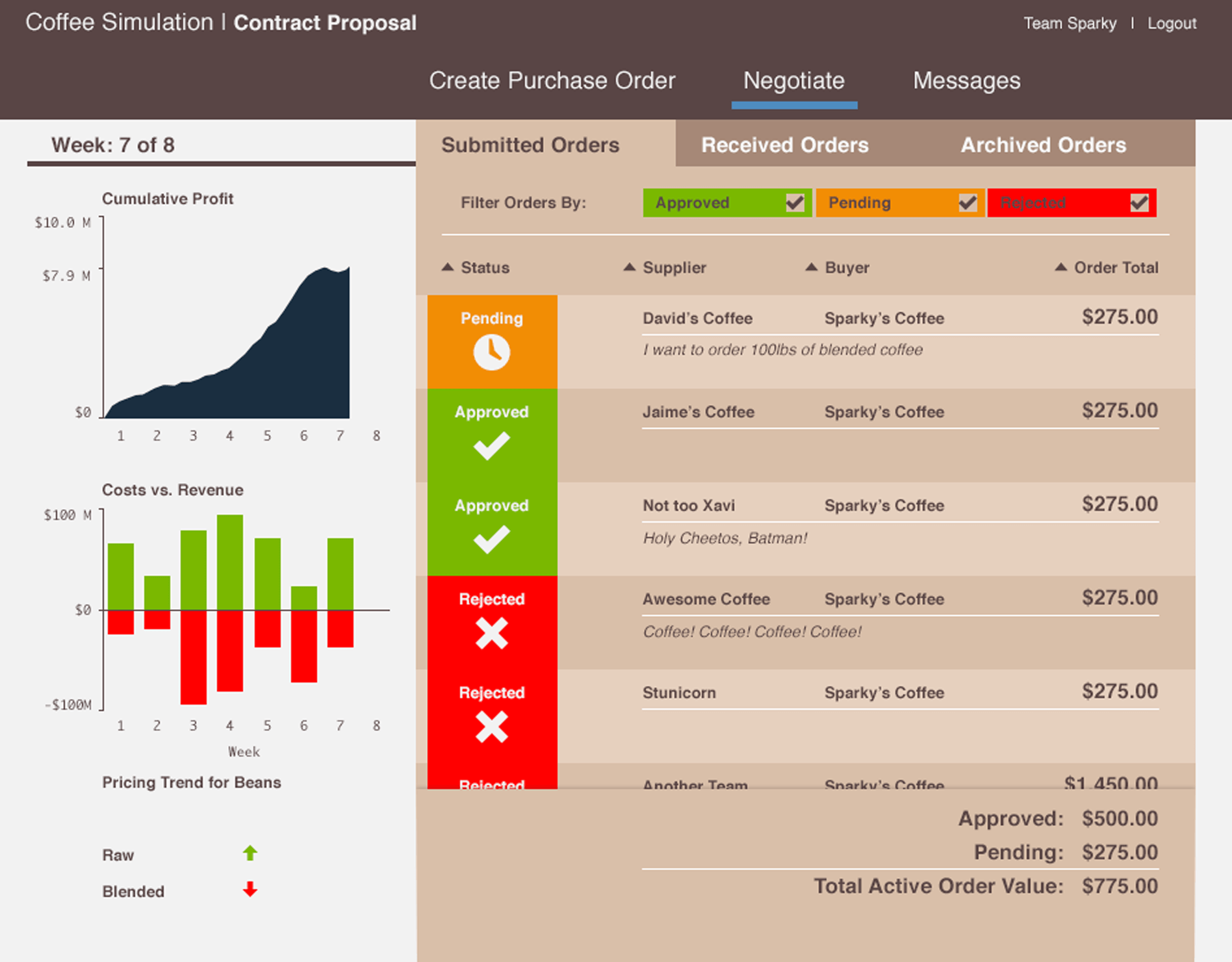 Negotiation Through Contracts
All of this inspired me to create a simulation, one where agreements would be made student-to-student, rather than student-to-computer. That was more realistic, but also challenging because many of the student negotiations were to occur outside of class. The simulation, therefore, required a communication tool as well as a contracting tool. Relationships were also key to emphasize, so the simulation had to run multiple rounds, keep track of results, and allow everyone to experience both buyer and supplier roles. A simple thing had become complicated.
The Prototype
Working with my doctoral student at the time, Sining Song, we developed the first iteration, with students buying and selling "alphas", "betas", and "gammas". A mish-mash of platforms were forced to work together. Each served a separate purpose: Blackboard© allowed the communication, Digital Purchase Order© created the contracts, Excel© crunched the numbers, and Word© mail merged the results. It was cumbersome, time consuming, fraught with errors, and, surprisingly, it worked! The students enjoyed it. But something had to change.
Why Coffee?
While explaining the game to my then fiancé, she kept wondering what was actually being sold. What is an "alpha"? My weak, abstract explanation led to a conversation that eventually allowed the idea of the coffee bean industry to emerge. It has multiple stages – from harvesting, to roasting, to blending – that allowed many roles. It has a great variety of types and grades to give complexity. It is something that dreary-eyed supply chain students know well. I even was able to create multiple story lines about moldy beans and unhappy baristas. Contracts needed quality warrantees and remedies had to be made. With the help of more grad students, the second iteration was complete! But it still was too much work.
Web-Delivered Solution
Luckily, our department chair, John Fowler, along with support from our advisor board, decided to support hiring programmer for an online, self-contained simulation. This was exciting, but where to go? We looked and looked and finally found Forio™, a group that has successfully built business training simulations through its Epicenter© platform for Harvard, Stanford, and others. With time pressures mounting and budget squeezing, the team at Forio worked with me to iron-out all my convoluted ideas and get the simulation done. The launch in 2015 was a great success with even more enthusiasm from students. Of course, refinements have been needed. As a result, we are now on Coffee Trade 4.0!
What's Next
The journey continues. To date, thousands have played Coffee Trade. Other schools are signing up to use Coffee Trade, companies are leveraging it for their internal development, and doctoral students are using it for experimentation research. Through Coffee Trade, for instance, research has discovered import negotiation ramifications of text-based versus video-based negotiations. We're creating more and more versions to highlight such things as multi-party negotiations, dispute resolution techniques, relationship management practices, and more. The coffee business is good for the education business. Without the help of all the people mentioned above, Coffee Trade would not be the fun, interactive, and educational tool that it is today.
Get This Simulation in our Store
Thomas Kull is an associate professor in the department of Supply Chain Management at the W.P. Carey School of Business, Arizona State University. He is also co-director of the school's Supply Chain Experiential Methods and Applications (SCEMA) lab.