Training and Development Conference: Join us at ASTD 2014
Join Forio at the upcoming ASTD International Conference & Exposition, May 4-7, in Washington, DC.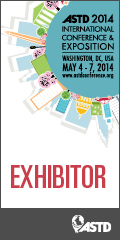 Join Forio in the exhibition at ASTD 2014, the American Society for Training & Development's conference focused on sharing best practices and insights from throughout the training and development industry.
Sessions and exhibitors are grouped around industry tracks in government, higher education, and sales enablement, and conference tracks include training design & delivery and learning technologies. Hope to see you there!