Coursera Partners Conference 2016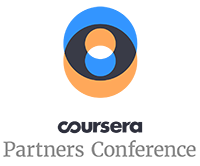 Join Forio at the Coursera Partners Conference, Better Education for a Better World, March 20-22 at the World Forum, The Hague.
Forio will be co-presenting at the Poster Session and Reception on Monday, March 21 with Professor Suzanne de Treville. The presentation highlights a recently developed simulation focused on supply-chain analytics.
Poster Session Abstract. Suzanne de Treville is Professor of Operations Management at the University of Lausanne and Director of OpLab, a research laboratory that develops supply-chain analytics based on quantitative finance to support competitive manufacturing in high-cost economies. Her tools are being used by the US and Swiss governments both to encourage manufacturing and to provide strategic direction for innovation. She serves as Department Editor for the Journal of Operations Management, where she is also guest editing a special issue. She received her doctorate from the Harvard Business School. She is currently developing a specialization for Coursera on supply-chain analytics for innovative SMEs. To make quantitative-finance tools more palatable to management students and to help them change their mental models, OpLab has developed a simulation game together with Forio, the leading player globally in educational simulations & analytics applications. The conference session is joint with Michael Bean, President of Forio.