ReThink Health at NASPAA Competition
Forio has been making simulations for use in higher education and public policy for more than a decade. Last month, we had an opportunity to combine these audiences: ReThink Health and the Network of Schools of Public Policy, Affairs, and Administration (NASPAA) collaborated to host a student competition based on a public health simulation created by ReThink and Forio.
See how the Simulation Contest unfolded at the University of Maryland School of Public Policy:
Public Policy for Community Wellness
ReThink Health, a non-profit associated with the Rippel Foundation, works with diverse stakeholders to transform regional systems of health so that individuals, families, and neighborhoods can thrive.
The ReThink Health application simulates the behavior of a regional health system. Policy makers select initiatives, group them into scenarios, then analyze trends in the resulting outcomes.
For example, learners can choose whether, and how, to invest in anything from reducing crime to expanding hospice use to recruiting primary care providers. While many empirical studies look at one or two initiatives, the simulation allows learners to see combinatorial effects of initiatives in a way that's just not possible through a review of literature. Comparing 'scenarios' — groupings of initiatives at different funding levels — and reviewing outcomes can highlight effective strategies for communities to pursue.
"Working with the Model built consensus around common issues that will enable us to have collective impact. We have now built a new organization and implementation plan around the Model experience and attracted significant local and foundation support." Eileen Dennis, member of the Pueblo County Board of Health (credit: Journal of County Administration)
The application uses an underlying model, which was created by ReThink Health based on peer-reviewed studies, and is customizable with data reflecting the unique characteristics of an individual region. At Forio, we developed the interface and visualizations and linked the interface to the model. The complete simulation is hosted on our platform, Epicenter.
Using ReThink in the Public Sector
ReThink Health uses the simulation in workshops and scenario-building sessions around the country, as part of facilitated workshops for groups ranging from county health boards to national non-profit organizations.
"[After the workshop] there was unanimous praise for the tool itself, as well as for the interactions and insights that it provoked. Creative conversations continued well into the evening as folks reflected on their experience." Bobby Milstein, Director, ReThink Health (credit: correspondence with Forio)
But as effective as these workshops can be, experiential learning through simulation doesn't need to be limited to established foundations or existing governmental bodies.
Using ReThink in Higher Education: Collaboration with NASPAA
The Network of Schools of Public Policy, Affairs, and Administration (NASPAA) works to ensure excellence in education and training for public service, and accredits graduate programs in public administration, public policy, and public affairs.
ReThink Health worked with NASPAA to develop the first ever student competition hosted among NASPAA member institutions. Designed to highlight public sector challenges, the graduate-level competition showcased the ReThink Health simulation as a tool to explore the complicated range of trade-offs required to meet diverse stakeholder interests.
Teams used the ReThink Health application to develop and present policy solutions. Regional finalists and a winning team were selected based on their ability to balance the best possible impact for their community and to modify their strategies to accommodate the priorities of various stakeholders. In all, 45 teams from 93 schools participated in the day-long challenge, which was held at five regional host sites across the US in March of this year.
The ReThink Health simulation…required students to apply the skills they have learned in the classroom and implement systems thinking. This was a transformative experience for students and they showcased their leadership skills, critical thinking abilities, and collaborative decision making. (credit: NASPAA)
Several of the benefits of using simulations in education — including improved ability to connect learning to real-world situations, freedom to experiment with new behaviors in a risk-free environment, and opportunity for immediate feedback from decisions — were readily apparent to both competitors and judges.
Simulation is useful as a tool. It's not going to dictate future behavior, but it can illuminate things that we may not have seen before. That is, we can recognize how different decisions interact with one another, and create changes that we may not have anticipated if we were taking kind of a strict, cost-benefit, linear approach to thinking through what our policies are going to be. Adam Eckerd, Competition Judge and Assistant Professor, Virginia Tech (credit: UMD interview)
The NASPAA Student Simulation Competition site has the video presentations of the winning teams. Additional reports are also available from the University of Southern California Price School of Public Policy (review, photos), the University of Georgia School of Public & International Affairs (photos), the ReThink Health blog, and the NASPAA press release.
Explore for Yourself
Here's a quick preview of the simulation in action: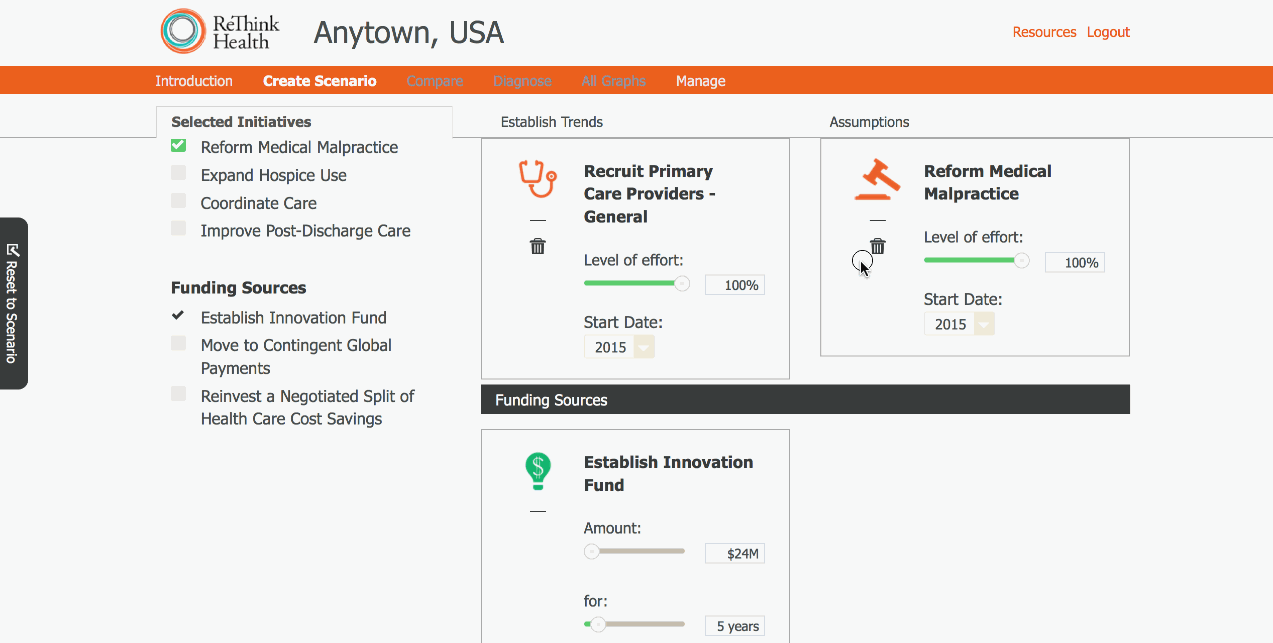 For additional background on the ReThink Health model and simulation, see this introductory video.