Training and Development Conferences: TechKnowledge and Training 2015
Join Forio at two upcoming conferences focusing on online and instructor-led training and development.
ATD TechKnowledge
January 14-16, Las Vegas, NV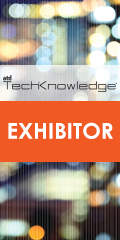 Join Forio in the exhibition at TechKnowledge 2015, the Association for Talent Development's conference dedicated to professionals who develop talent by improving the knowledge, skills, and abilities of those in their organizations. Sessions and exhibitors will highlight best practices and tools for design, delivery, management, and strategy of training solutions.
Training 2015
February 9-11, Atlanta, GA

We're also presenting and exhibiting at Training 2015, Training magazine's annual conference.
Forio's presentation, How to Build Online Multiplayer Collaborative and Competitive Simulation Games, will be given by Michael Bean on February 10. See the full schedule of sessions.
Abstract. Learn how to develop your own online simulation game using technology readily available online. During this session, we'll create a multiplayer "price war" game. You'll see examples of online multiplayer training games and then you'll collaboratively develop a simple price war model and build it online. After our model has been constructed and tested we'll create an engaging multiplayer user experience using a drag-and-drop interface builder. This session will conclude with volunteers playing the new game. The game will be hosted online and available for you to play after the workshop. The content developed during our session will be licensed under creative common attribution share-alike so it can be easily improved upon by anyone!